How To Build A Penny Auction Website With WordPress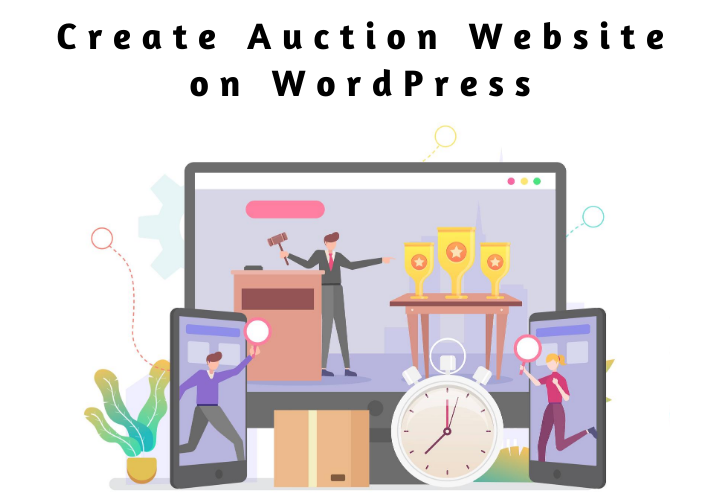 Many people today are favouring online auction website to sell their old goods and buy new ones. This is the reason auction sites are becoming popular day by day. There is a large number of people who are looking for an easy way to create auction websites to use it as a source of income. As they may earn through their website either by monetising the site or charging membership fees from the users. In this article, we will show you how to set up an auction website with step by step instruction.
What is an online auction website?
An auction website is a platform to conduct a virtual auction. Here, the sellers sell their products to the person who pays the highest price. An online auction website offers an easy platform to the people who like to buy or sell products in an auction environment. WordPress Auction theme is a great way to create optimal design along with the environment. With auction website we get an opportunity to connect to like-minded people. It can be used as a marketing technique to promote newly launched products or clearing old socks.  
The most popular auction websites of 2020
Here are some most popular Auction websites of 2020 –
Webstore is a free online auction platform. It connects the traders from all over the world to buy or sell products with no fees for bidding. The main objective of Webstore is to give you an opportunity to turn your unwanted stuff into cash and get the best possible deals for the new or used products.
eCrater is an online marketplace for auction as well as a web store builder. One gets multiple products here as it allows users to import eBay or Google shopping products. This is the reason the section of items is quite good here. The most interesting feature of the site is, you don't need to register to participate in bidding. It is a free platform.
Listia is a popular online marketplace and mobile app for auction. The site has a system called Listia credit which facilitates online trading. Users earn credit for giving the themes they no longer require and can use them to buy a product that some other user has listed. There is also an interesting feature known as Listia Assurance. The buyers get a full refund of his money if the purchased item turns out to be different from the description that was given there in the site.
How to set up an online auction website?
There are many different ways to create an auction website but the easiest way is to use an auction software plugin. If you are a WordPress user, there are hundreds of plugins available in the market. We will show you using a plugin called WooAuction.
Here are the steps you need to follow –
Define your goal
Setting the goal is the first and foremost step that you need to take. It defines the entire process and shapes the agenda. If you are planning to build your auction website, you need to be very clear about the why factor. There can be many reasons for this. The most common reasons why people think of auction sites are a quick sale of products, old stock clearance or simply to use it as a source of earning. What is your reason will define your target audience, methods of promotion and also the ways of conducting auctions.
Suitable domain name
To create an auction site, you need to buy a domain name. The domain name is the name that appears in your URL. people know you through this name. it becomes your online identity after a certain period of time. So, you have to be very careful while choosing your domain name. You may not get the one you decide as it depends completely on the availability of the domain names. So, it is always better to keep three or four options ready so that you don't face any difficulty even if one or two of your options get rejected.
Trustworthy hosting service
After you finalise your domain name, the next step is to get a hosting service provider to host your website. There are thousands of hosting providers in the market. You need to see your requirements and check the features of the hosting service. Go for the one that matches your needs. We would recommend Bluehost here.
Download WordPress
Here are the steps you need to follow to install WordPress –
Download WordPress
Unzip the downloaded file to a folder on your hard drive
Create a password for security key
The next step will depend on what hosting service you are using. If you are running WordPress development company then you will have a ready-made WordPress database setup for you.
Install the WooAuction plugin
Now it is the time to install the WooAuction plugin to create an auction on your site. Installing a plugin in WordPress is a matter of just a few seconds. Here is what you need to do –
Download the plugin
Head on to your wordpress dashboard
Go to Appearance -> Plugin -> Add new
Click on the Upload button and then select the WooAuction plugin zip
Click on the Install button
After the installation process is complete. Activate the plugin by clicking on the Activate button
Merely installing the plugin is not enough. You need to configure it properly to make the plugin fit your needs. Here are the steps you need to follow to adjust the plugin features as per your requirements –
Click on the WooAuction plugin icon on the left sidebar of your dashboard
This will take you to the setting page
In the General setting section, you will get options for naming your site, choose your preferred currency, enter your email id and select the bid types
Scroll down if you want to alter the payment option
Now save the changes and you are done
Make sure that all the information you entered is collected before saving the changes. Remember these are the details to which all the payments that you will receive will go. Never forget to cross-check.
Run your first auction
After all your settings are done, you must run a test auction to check how it will look on your website. Follow the steps below to run a test auction –
Go to your dashboard
Go to WP Auction -Add an auction
You will find the plugin icon on the left-hand side of your screen. Click on it.
A new page will open
Enter all your auction-related information there like title, description, starting bid, end date, images etc.
Scroll down to add shipping choices. There is an Optional Setting box. Using this you can add additional images to your auction.
After you are done click on the Add Auction button
The plugin lets you view the status of all your live auctions. Just go to the dashboard, click on the manage tab under the WP Auction tab. You will get an overview of all the auctions that are live on your site.
Top 4 WordPress Plugins For Auction Website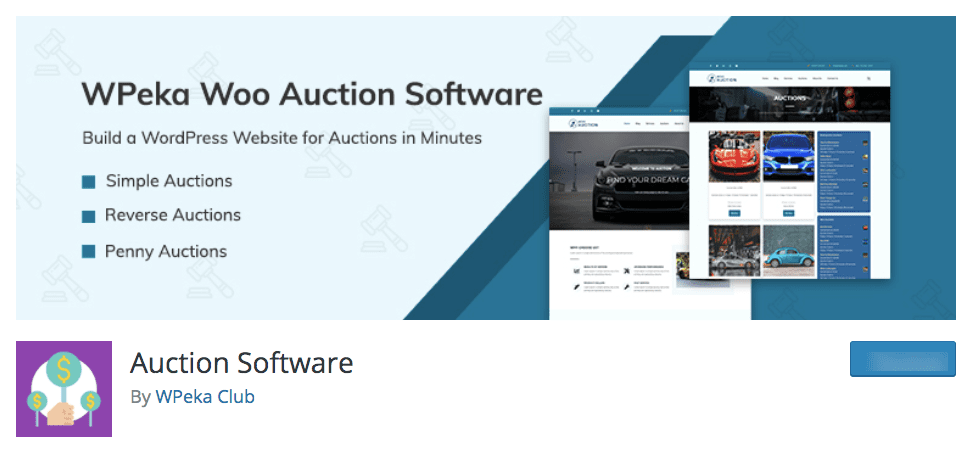 WooAuction is an advanced auction software plugin for WordPress. This plugin helps you to set up an auction website in minutes without any difficulty. It supports three different auction types: Forward, reverse and penny auction. It also works with multi-vendor setup. This feature allows you to create an eBay style auction. WP Auction Software is a beginner-friendly and well-documented plugin. The plugin is available at $49.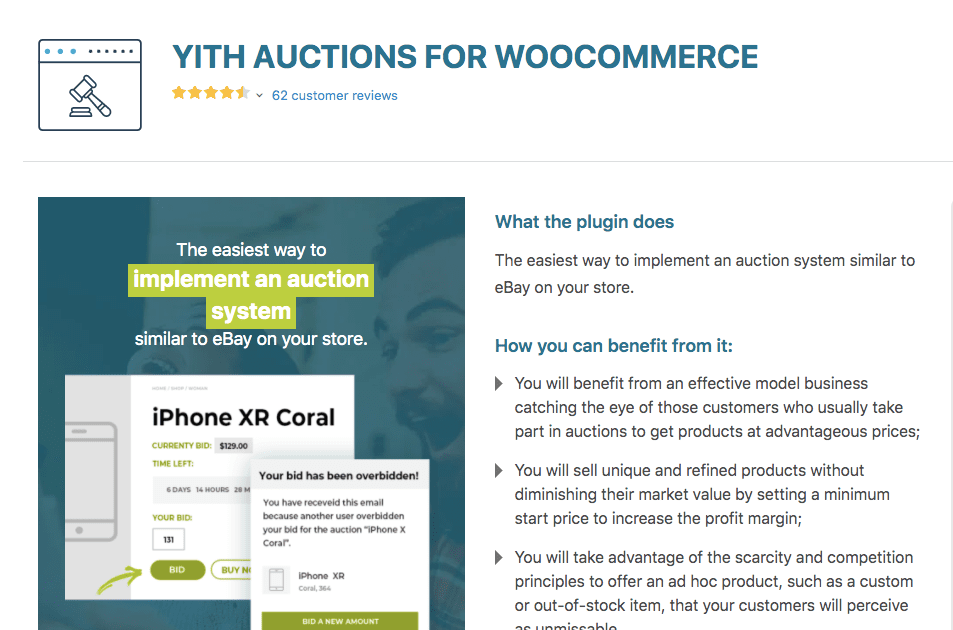 YITH is a powerful auction plugin for WooCommerce. It allows you to create an unlimited number of auctions on your site. You can set manually the star and the end date and time for the auction. There are options to set a start price and enable auto raising when a user places a higher bid. You may allow the users to end the auction by purchasing the products at a fixed price. The plugin has an automatic email notification feature. Users get notified immediately whenever there is a new update. It is available at $99.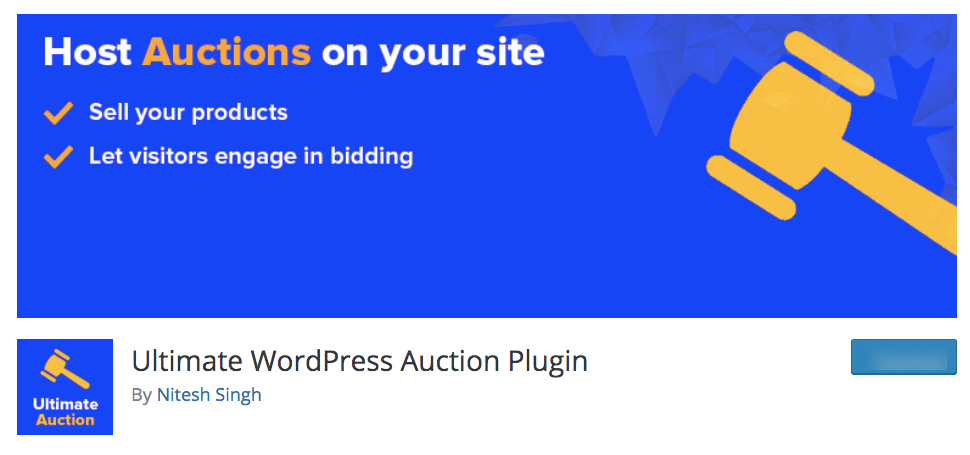 Ultimate WordPress auction is a simple and flexible WordPress auction plugin. It offers you lots of easy to use features to set up an easy and quick auction on your site. It comes with an advanced Ajax admin panel for better auction management. You can register users, set the bid prices manually and an email notification to bidders for playing bids. There is a lightbox feature to display auction images. It is a free plugin to create auction website.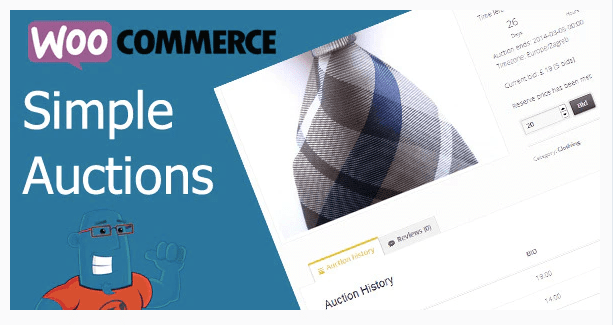 WooCommerce Simple Auction is a powerful yet simple WordPress plugin for auctions. It supports normal, reverses and sealed auctions and also proxy or auto bidding. You can set the start and the end time of an auction manually. Here, the actions are fully customizable. You can easily control the elements of auction website. You can send email notifications to the users regarding new updates using pre-designed editable email templates. The plugin is well documented. It is available at $29.
Conclusion
After you install a WordPress plugin, setting up an auction site is a matter of a few clicks. Try the easy steps mentioned above and you will be able to start your first auction website within minutes without taking help from anybody. So, what are you waiting for? Grab the plugin you think will be the most suitable for you and get started.
If you liked the article, please share it on Facebook and Twitter. Leave your feedback on the feedback section. We would love to know your reactions. If you have any further query, please let us know. We will get back to you soon.